As Valentine's Day approached we began to discuss what we wanted to do. Usually we go get dinner and a movie. This year that just sounded like a mad rush...out with all the others trying to do the same. So...it all started with an idea...what if we had the house to ourselves? Nah! We could never pull that off...could we?!? Hannah and Esther were going to dinner and a movie with friends(a sort of single awareness day celebration.) Joe was working. In a moment of realization...it all became clear. We might...just...do it! We very selfishly generously offered our services to babysit the baby so Peter and Daphne could go out to dinner and a movie. :-D GENIUS!!!
Once the plans were laid...Timothy and I began making plans of our own. Timothy then told everyone...DON'T COME HOME BEFORE 10:00. :-D
The evening started with Pandora playing love songs, while we fed the baby. We both sat there with her. "Banana" Grandpa said...as he handed a piece to Eva. She said something as she handed it to off to Grandma who handed it back to Eva, who took a bite and handed what was left to Grandpa. We enjoyed every one of those 30 minutes. She laughed, and ate, and tried to fit her too big cup into the cup hole on her tray. She very specifically chose what she would and wouldn't eat...and like wonderful grandparents we were absolutely permissive.
After dinner we cleaned her up and then the real fun began. We danced to a little Louis Armstrong and Ella Fitzgerald. "Heaven, I'm in Heaven" and boy were we! Can't you just hear that rich gutteral voice sing it.
"And my heart beats so that I can hardly speak"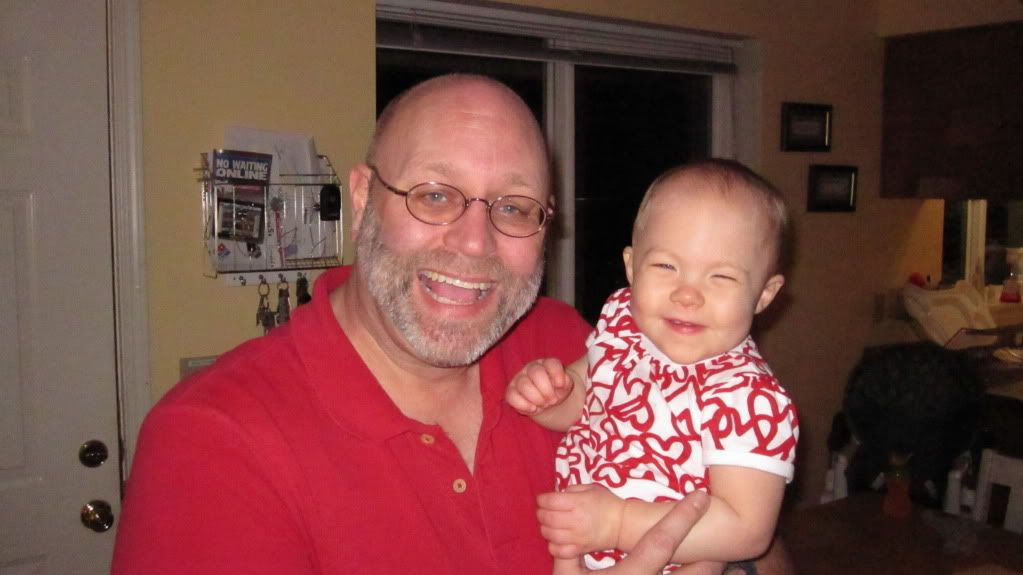 "And I seem to find the happiness I seek"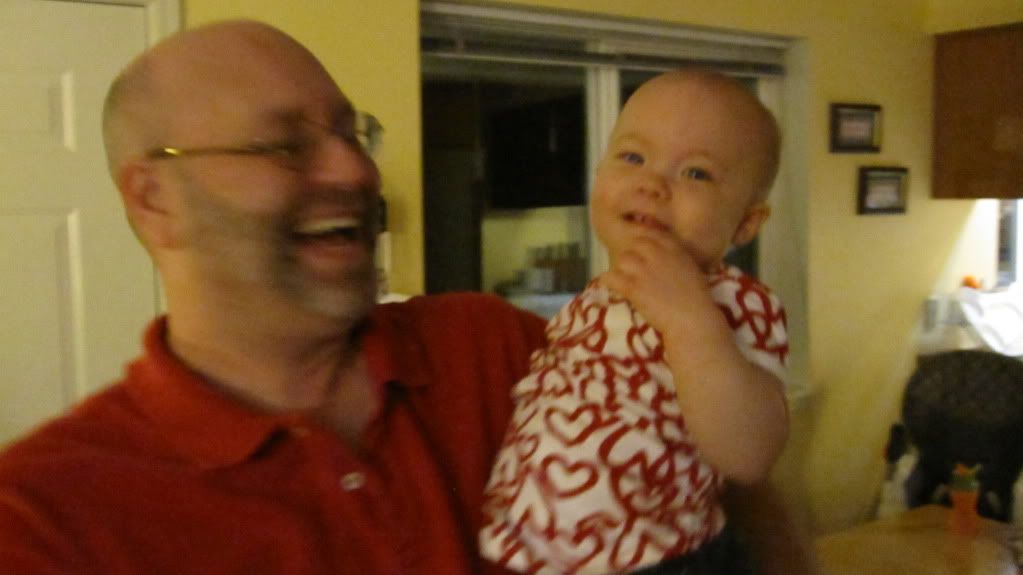 "When we're out together dancing cheek to cheek!"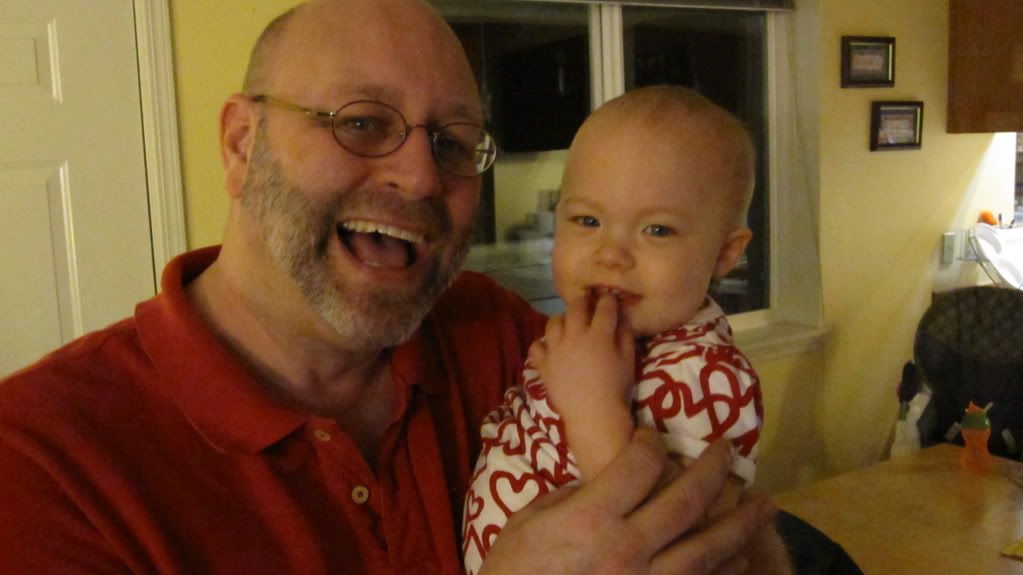 Then Grandma took Eva upstairs and gave her a bath, while Grandpa started our dinner. We got her all cleaned up and put her in her new jammies that say LOVE on the chest. Then we read her new book about chickens. She was so interested in the whole thing. Then it was time for Missy to say goodnight. She was pooped so quick kisses and she was almost immediately asleep. Not one peep.
Then I rushed in and freshened up, and put on a dress, some lipstick, and a flower in my hair. We had the oil lamp and candles lighting the table as we ate a delicious dinner of Rib Eye steaks, with yummy scallops, and steamed asparagus and sweet potatoes with a loaf of sweet dark rye bread(everything was perfectly cooked! I'm SO blessed!) We basked in the time, talking only about how wonderful it was to be home alone together.
He asked me to dance and we spent the next 45 minutes dancing in our candlelit livingroom...and it truly did feel like we were the only two people in the world! When we were tired we flopped into our chair where we quietly talked and listened to one love song after the other...until just as we were nearing 9:45 one of OUR songs began to play(Amazed by Lonestar) Thank you Pandora - you were perfect all evening! We danced this one last song. SUCH a sweet evening! Hand in hand we went to the kitchen to clean up.
One after the other the kids came home...breaking the spell of the evening. Real life crept back in as we sat in our chair watching Biggest Loser. We kept squeezing each other's hands, or catching the other's eye...clearly holding onto the sweetness as long as we could. In fact I've held off in blogging about it because we were still cherishing that time. Boy did we need it!
Here is one last sweet pic of our precious Little Miss...I saved the best one for last:
I love you Timothy! J.