We spent most of Tuesday relaxing.
We sat by the pool: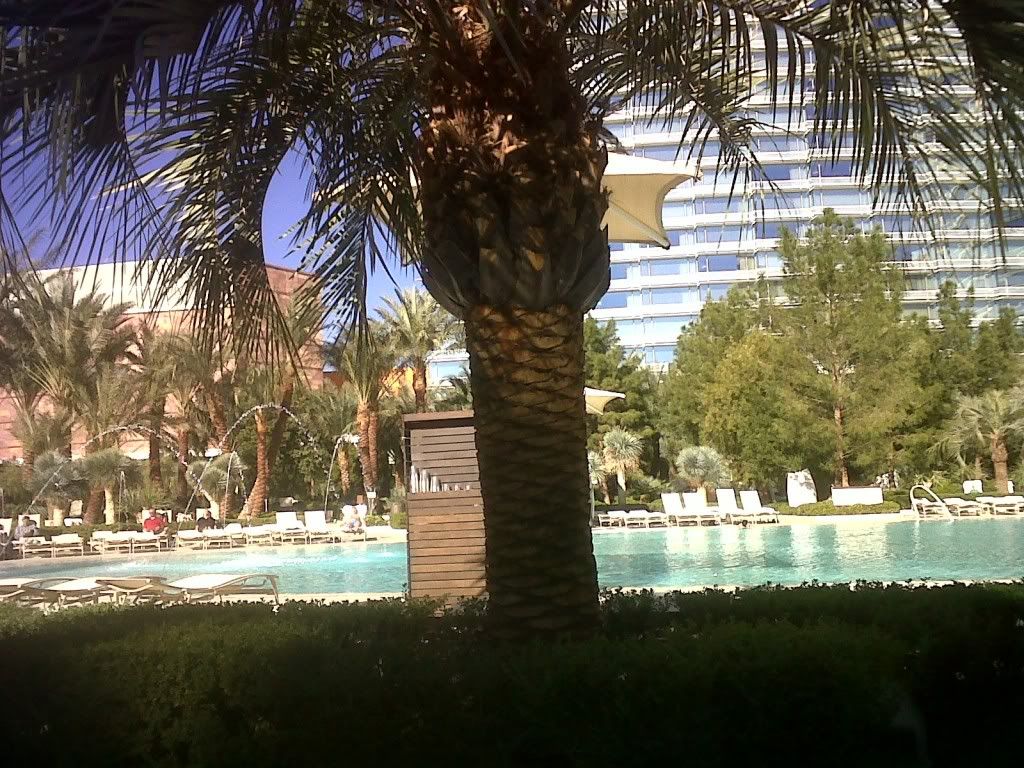 Wearing jeans(it was only 65 - 70) in the shade of the building, we relaxed and planned our trip to the Grand canyon. We ordered drinks from the cabana girl...2 drinks, rum and diet, and crown and diet. We figured they would be expensive...$12 or so each. When she brought the bill we were blown away. $41.50 for two drinks. Lesson learned!
We had panini's at Sweet Chill on the promenade level at the Aria. The atmosphere was strange...all pink and plastic. It looked like an old school lunchroom to me. We did have fun with the huge chrome column: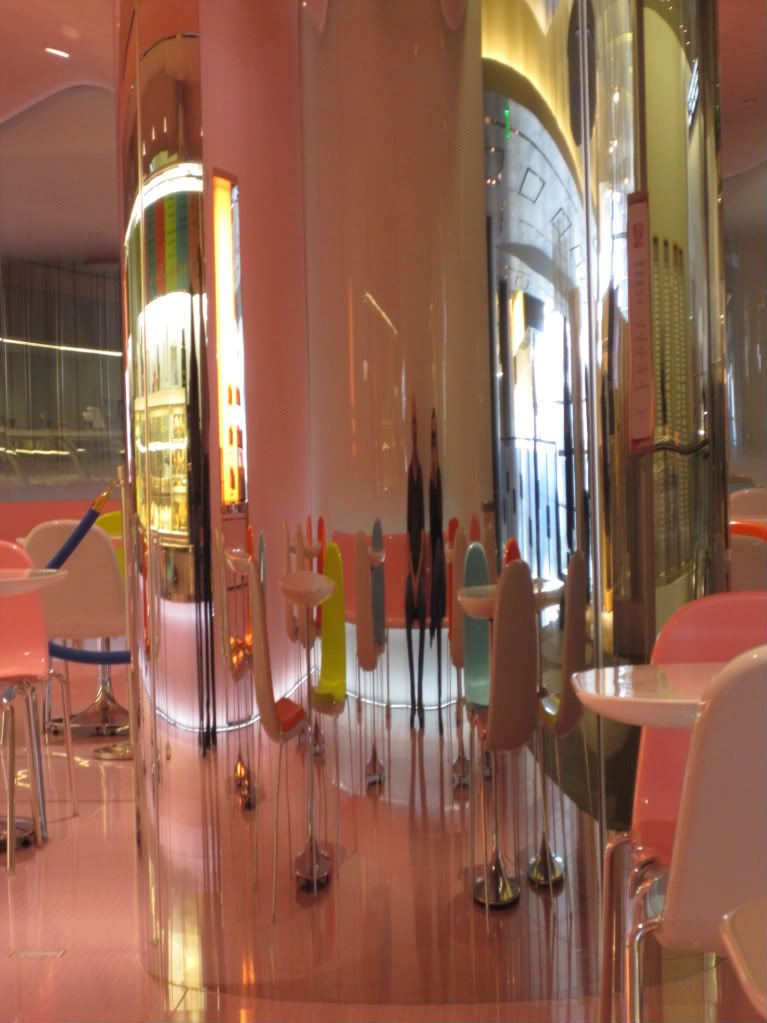 It had this great reflective ability...think fun house mirror. We loved that it made us super skinny: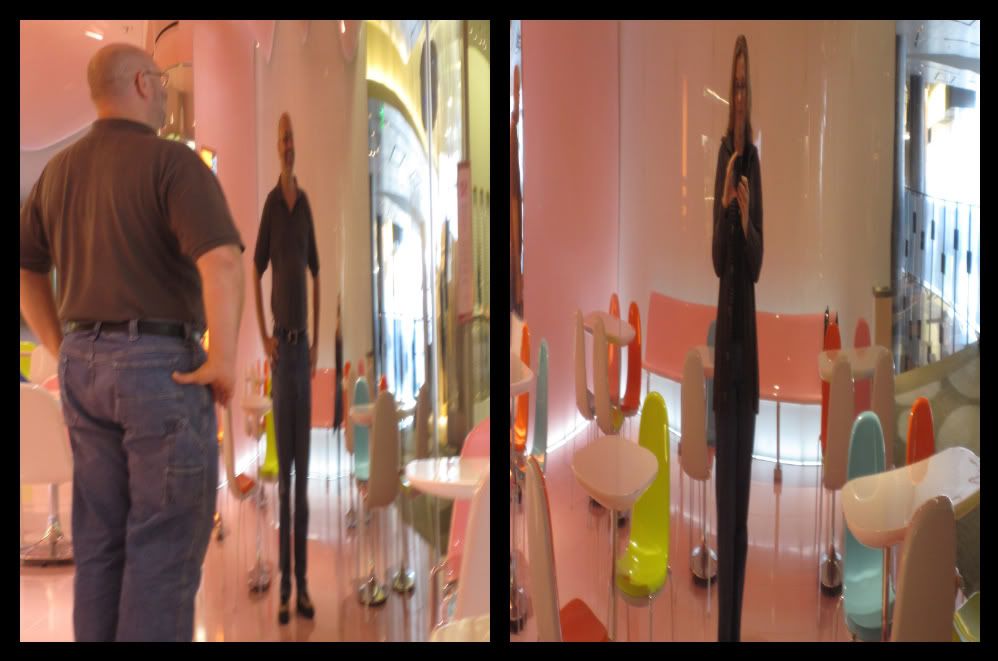 We took the tram from the Aria over to the Bellagio and back.
Such a great shortcut...and it was right in our hotel: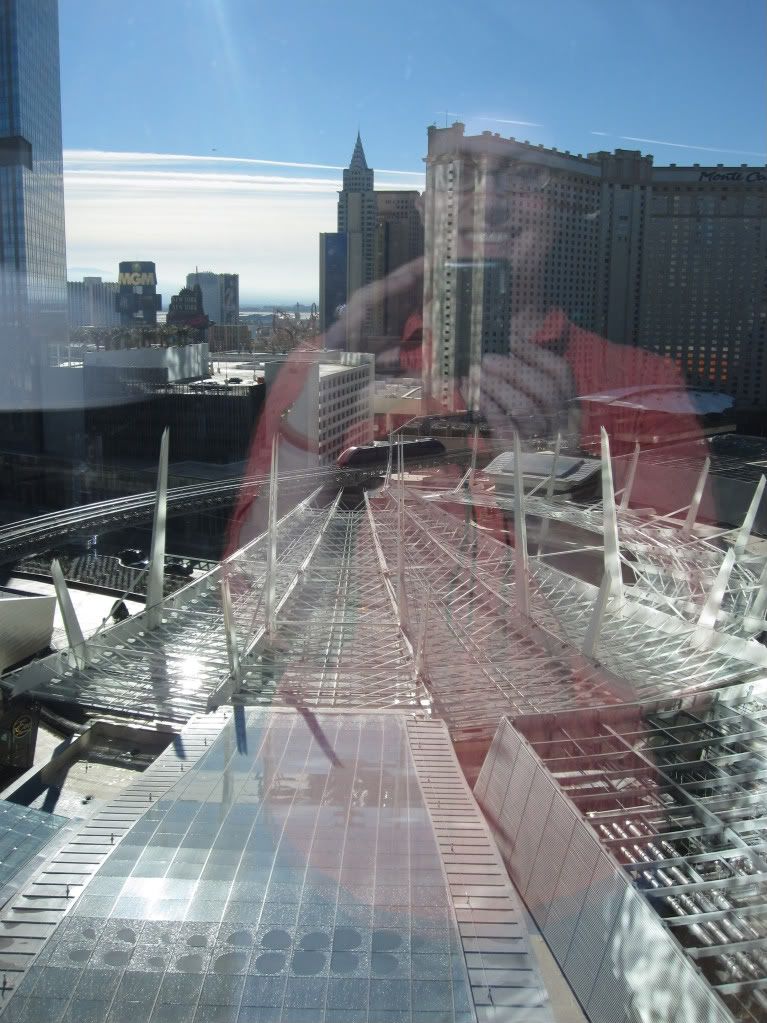 I didn't realize till we got home and I uploaded my pictures that my reflection was in them.
In the evening we went to dinner at the Lemongrass(also in the Aria). We had read very poor reviews about this restaurant, but we encountered none of the issues that were described. The atmosphere was pleasant, the food was delicious. After dinner we went Viva Elvis(the complementary show tickets.):
Honestly it wasn't really my thing. The dance routines and acrobatics were impressive. It was just a little too over the top for my tastes.
After the show we took the tram over to the Bellagio to see the Fountains of Bellagio! What fun! The show was impressive, and frankly it was just cool and fun to be out on the strip at night feeling the spray from the fountain and enjoying each other's company.
Our time in Vegas was blissful. The relaxing baths, and time by the pool, the time spent over fabulous food, and just hanging out together, the luxury of the Aria and blessing of a nearly free trip was wonderful! J.